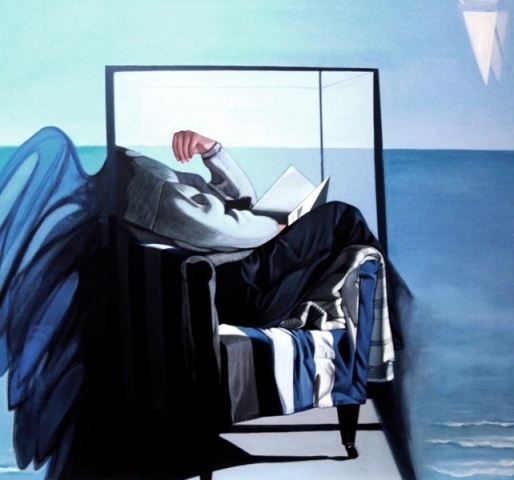 Ali Jabbar- Abstract Art
"Ali Jabbar is a significant painter who works with the penumbra between light and dark, between external reality and the imagination, between figuration and the abstract environment. These variations on a theme are pronounced with vivid colour. The magic (if I dare say) that is within his sculpture is also within the paintings."
Robert C. Morgan, international critic, art historian, artist, curator, and essayist based in New York City
Ali Jabbar is a painter, sculptor and designer. He was born in Iraq in 1963, has lived in Denmark from 1992 to 2008 and has Danish citizenship. He studied at the Institute of Fine Arts in Baghdad (1982-1987), at the Academy of Fine Arts in Baghdad (1987-1990) and the KKA Design School in Copenhagen, Denmark where he achieved a Diploma in Graphic Design. Jabbar commenced his career in art in 1985. Between 1985-2009 he created 5 bronze statues in Iraq and participated in the Baghdad International Biennial, the Cairo Painting Biennale, the Tehran Painting Biennale, the Grand Palais Biennale in Paris and the Sharja International Biennial. He also participated in 85 group exhibitions in Denmark, Iraq, Sweden, Austria, Jordan, Egypt, Tunis, the UAE, Finland, Poland, Lithuania, Latvia, Estonia, France, USA, Iran, Spain, Bahrain, Turkey and Norway.
In total, Jabbar has enjoyed 11 solo exhibitions in Denmark, Germany, Jordan, Spain and London. Ali Jabbar's works of abstract art form part of the Latest Sale affiliate scheme, giving art collectors the opportunity to  participate in our direct buying and art rental service for abstract art posters and abstract art limited edition prints.
.
Michal Černušák- Street Art
Michal Černušák is a vibrant conceptual, street artist who applies his urban artistic endeavours to pensive and thought-provoking work.
Education
Academy of Fine Arts and Design, Bratislava, Slovakia.
Prizes
Special prize Essl Award, 2007,
Nomination for Essl Award Essl Award, 2005,
Prize of 4. Studio, 2005
Works Public Collections
ESSL collection, Sammlung Essl, Wien-Klosteneuburg, Austria
EUROPEAN CENTRAL BANK, FRANKFURT AM MAIN, Germany
Marek Collection, Brno, Czech Republic
Wannieck gallery, Brno, Czech Republic
DvorakSec, Prague, Czech Republic
Galéria mesta Bratislavy – GMB, Bratislava, Slovakia